Early Years in South Africa (continued)
9th June 1961
A Refreshing Breeze
At a time when the newly born republic of South Africa stands aloof and almost completely isolated by all nations of the world because of her radical policies and when hatred and strife between the different sections of the population of this country is reaching alarming and serious proportions, the message to the new Republic of South Africa from Sri Swami Sivananda, the spiritual leader of millions of people, comes as an illuminating light to dispel the morbid atmosphere which permeates the length and breadth of our country. This all-important message of peace, goodwill and universal brotherhood brought to this country by Swami Venkatesananda, the foremost disciple of Swami Sivananda, should move all South Africans to spare some time for self-examination of the ideals and values they hold. Such an examination would reveal that materialism has driven man to seek wealth, power and fleeting pleasures, which are the basic causes of not only the problems of this country, but of all nations.
Swami Venkatesananda delivered his message of tolerance, patience and understanding in various parts of the country. It is to be hoped that this message made for men of al religions and creeds will sow the seeds for the easing of "inner and outer tensions and that eventually the right knowledge will lead man to his own salvation." A newspaper reported: The Divine Life Society of South Africa must be congratulated for having brought into this country so eminent a personality as Swami Venkatesananda. It is hoped that the spiritual truths which he would broadcast to make man realise the vital role which religion has to play in his life will be received by men of all races, religions and language." The typewriter always travelled with Swami. He would answer letters as they reached him – sometimes as many as 50 per week - and keep a couple of hours per day for writing his books: Bhagavad Gita Commentary, translations of Bhagavatam, Ramayana, Yoga Vasistha and the sayings of Buddha from the Sanskrit and Pali texts. Most of his talks given around the world were transcribed by devotees and printed as booklets. One unique feature of Swami's books was that he wrote them as Daily Readings.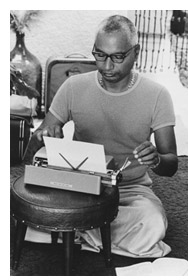 He would suggest that we read a page a day from each book (or the book of our choice) so that we would be exposed to uplifting and sublime thoughts each day. And at the end of one year the book would be completed. The Supreme Yoga(Yoga Vasistha) should only be read one page at a time, so one can begin to assimilate the teachings.
In Johannesburg, Jyotsna Mata made her home available to Swami and a few of his close disciples. We shared an upstairs landing where the bedroooms were located. Each morning rising before dawn we would shower then go down to the meditation room and wait for Swami to join us, which he invariably did. Those early morning meditations in his presence during the last days were very special indeed. We would often lunch together with him too and share vigorous walks around the neighbourhood. Then there would be the afternoon satsangs where we would all sit on the floor around Swami and he would entertain and instruct us in question and answer sessions or shore discourses. Tea and biscuits were brought in after an hour or so and days would pass in bliss. In the evenings there was often a talk and many people would cram the hall to hear him.
In Cape Town on previous years, Swami would stay with Sushila and Ramani in their house near to the centre of Cape Town. From here his program would be co-ordinated and satsangs and outings arranged. There was always a steady stream of devotees and disciples to the house where he was staying and each would have a task or duty allotted. Ananda Kutir Yoga Centre in Rosebank was run by Yogeshwari who played host to many of his evening speeches. From modest beginnings in a small hall in the back garden of a suburban house, Ananda Kutir Cape Town grew steadily and soon an ashram took shape. Later he traveled to Mauritius, where an ashram was established.